Buenos días! Este post no es lo que esperáis, no es un look, ni nada parecido. Pero claro, la cosa se complica cuando tienes casi toda tu vida metida en cajas y maletas. Así que hoy vengo a contaros mi locura de cada Septiembre. Me imagino que como para la mayoría de vosotros, Septiembre para mí es un mes en el que se vuelve a empezar, las vacaciones acaban y volvemos a la rutina habitual con sus correspondientes propósitos. Esto significa ser más ordenado, no dejarlo todo para el último día, acostarse antes, levantarse con el primer despertador y una laaarga lista que sigue y sigue. Entonces para intentar (repito, intentar) cumplir con todo esto, cada Septiembre me compro agenda, me descargo organizadores, lleno mis bolsos de libretas y bolis de mil colores... luego se me pasa, pero y lo bonito que es verlo todo organizado el primer mes?
Así que hoy, después de toda la semana recopilando descargables, he decidido poneros aquí los que más me han gustado para que vosotros también cumpláis vuestros propósitos de Septiembre. Espero que os gusten!
Good morning! This post is not what you expect, this is not an outfit or something similar. But obviously when you have almost your entire life in boxes and suitcases posting a look (and get dressed without look like a homeless) turns so difficult. So today I come here to tell you my madness of every September of my life. I imagine that for me, like for all of you, September is the month when you start again, the holidays are over and we return to the routine with all those purposes. This means being neater, going to bed earlier, doing the things before the last day, and a long list that never ends.
Because of this every September I buy a new agenda, pens, markers, I download all the calendar printables of the Internet and I enter into a kind of madness that only lasts a few weeks.
So, as I want all of you entering in the same madness, I show you some of my favourite printable calendars/plannings that I've been collecting this week. Enjoy this month full of new things!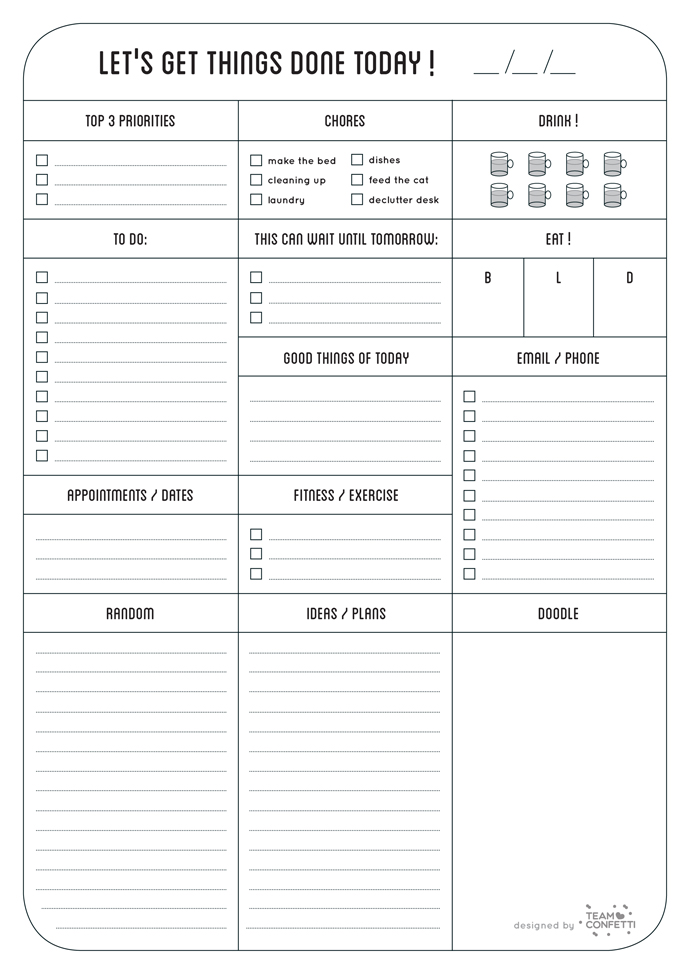 Descárgalo aquí! Dowload here! (www.teamconfetti.nl)
Este es mi favorito sin duda, perfecto para tener los días organizados de principio a fin. A ver cuánto me dura!
This is my favourite without doubts, it's perfect to have all the day perfectly organized.
Descárgalo aquí! Download here! (www.cocoandmingo.com)
Este me lo pido para tachar los días que faltan para volver a casa!
I decided this is going to be the calendar that I'm going to use to cross off the days till I go back home.
Descárgalo
aquí
!
Download here!
Este es genial para tener una vista rápida de todo lo que tenemos que hacer cada mes.
This is fantastic to see in one moment the things we have to do each month.
Descárgalo aquí! Download here!